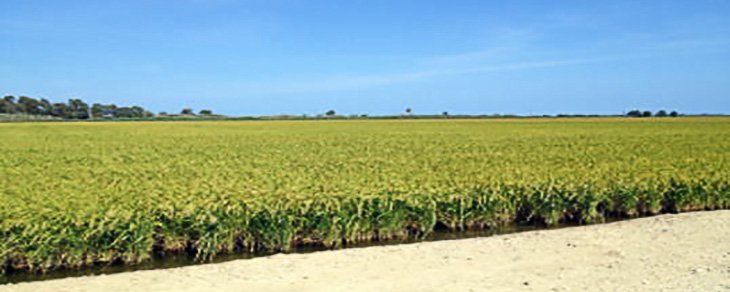 Thanks to the source of the Ebro, flowing from the Pyrenees in northern Spain, the rice cultivated here enjoys a stable size of harvest.
At the southernmost of Catalonia, located between Barcelona and Valencia, an extensive wetland river delta area formed by the Ebro expands, and this area is called "el Delta del Ebro", the Ebro Delta. The Ebro Delta, which is one of the three largest regions in Spanish rice production, and where the usage of agricultural chemicals is restricted greatly as a consequence of being a national natural park (Parque Natural), extends over an area of approximately 21,000 hectares, and whose farm products are known to be SEMI-ECOLOGICAL (agricultural product cultivated with agrichemical-reduced culture method)
The MINORI rice is AKITACOMACHI variety based rice. The AKITAKOMACHI because of its good taste and aroma, our glutinous rice is characterized by the chewy texture thanks to the high content of water, and is savoury even when it gets cold.
Our brand "MINOI" rice we deliver to you is also cultivated with a safe and secure agrichemical-reduced culture method. Enjoy our MINORI rice with the sweetness, the good gloss and stickiness, characteristics of the AKITAKOMACHI variety.